The Tracks
At Wentwood we have many tracks and riding areas ranging form XC trails to Downhill tracks.
New DH Track: We have plans for a second Downhill track which we will maintain together with the original "dragons track". We hope this will add some variety to the trails in Wentwood and give you double the amount of riding. Building will hopefully start early 2010 and be ready for spring/summer.
Downhill Track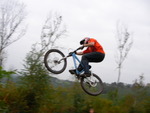 Time: 2-3mins
Distance: 759m (approx)
Discipline: DH (Downhill)
Suitability: Novice - Experienced riders
Read Reviews NEW
Description: The track starts off in the woods with a start straight into a 90 degree right berm. It then meanders through roots and trees until "The Compression" which lines you up for the first fireroad crossing. Next is a choice between a fast bermed section or stepdown into the second berm which leads onto a small drop and then the "Jeep Section". This consists of a hip and a larger table jump which are all rollable for less experienced riders but still able to be hit at speed for those more advanced. Coming out of the trees is quite rocky and leads you onto a fly off which again is rollable. Following on are some off camber corners with berm jumps and rock chutes which will lead you onto the main road gap. This Jump is fairly big so be cautious or take the chicken run to the side. After here is a set of fast berms leading onto a set of switchbacks and a rock drop onto the fireroad. The bottom section has now been rebuilt and follows on from its original start. You drop down and jump into an off cambered corner and a series of tight turns in the trees. This lines you up for a drop on to a steep, very fast and off camber corner which leads onto a small fly off into a steep bermed corner. From here is a very steep rooty section which is very slippery but extremely fun.
We advise anyone visiting for the first time to walk or roll the track. Although the course is for all abilities there are section which can catch you out and must be approached with care.